Reviews from Real Patients about Their Time with Our Chino CA Dentist
If you are trying to find a Chino CA dentist, be sure to contact us by calling (909) 364-1330.
We believe that our patients are the best judges of quality service at our conveniently located Rialto and Chino dental offices. Read what our patients have to say about us below:
Best customer service ever . Very clean place. Very friendly staff, can't wait to be back, and will recommend this place to anyone.
- Beauty M.
I love my dentist. Ladies and Gent are all very nice. Place is clean and fast.
- Lori L.
My daughter had a bad experience with her last dentist. She loves coming here. They are the best!!! I high recommended them to anyone looking for a great dentist. I come here too.
- Monica F.
Best dentist I've ever been to! Such sweet and caring staff! I highly recommend coming here if your in the area and in need of a great dentist. I've been coming here for the past year and have never had any problems EVER!!
- Benita H.
Bright Smile Dental Office is great they have a very nice and friendly staff that will explain everything you need for total dental care if you live near or in chino this office is great. Enjoy your smile again.
- Shawna H.
Friendly staff, good service…
- Erika G.
Great work, staff are very gentle and cautious while working, all the Dr's are the best.
- Arnold J.
SUPER HELPFUL AND WONDERFUL STAFF
- Viola O.
Very good dental place, very friendly
- Montserrat R.
Friendly staff and good services.
- Vito S.
Excellent Dr. And staff !!
- Nelly A.
Very professional nice people
- Kathy H.
Everything is very good. The doctor does a very good job and the girls are very kind. I recommend them...
- Alejandra T.
Thank you for an award winning smile. People actually tell me I have perfect teeth, it feels great. Thanks for the great work.
- Ashley
Before, during, and after the treatment, I was very comfortable and pleased with the results.
- Mark
This is hands down the BEST place to go to! I was previously traumatized from a bad experience at another dentist office so I have been scared ever since. When I walked into the office, I was greeted right away with a big friendly smile from the receptionist. She made me feel so welcome. When I saw Dr. Raj I explained my previous negative experience. Dr. Raj was so gentle and nice as was his assistant. They made sure I was comfortable all throughout my visit. Perhaps I appeared scared or not at ease but regardless they asked me how I was doing numerous times as well as made jokes which made me relax and feel that I was in good hands. I had some cavities filled and a deep cleaning that I'm am really happy with. I am looking forward to going to ALL of my checkups now! If the staff from Bright Smile Dental Care ever reads this review, thank you so much I can't express how great my experience was and how wonderful your staff are! I wish I could give 10 stars!
- Jennifer G.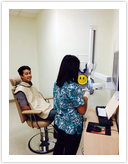 First time at this dental office. Came in for teeth cleaning. Was very surprised when I walked in. I was greeted by nice staff members. The office looked very clean and spacious, which gave me a more relaxed feeling being there. Did the usual paperwork, while watching The Price is Right on their tv. They have this fancy xray that takes digital pics. The hygienist sat me down and started cleaning my teeth. Shortly after Dr. Raj took off some more stains, checked for cavities, and explained my xrays to me and I was good to go back to work. It was a pleasant experience since i haven't gone to a dentist in very long time. Ive had several bad experiences before and i recommended a few friends to try them out. They have been going to Dr. Raj ever since.
- Michael C.
Hands down these gentleman are the best dentist in the I.E. wouldn't go anywhere else. I live in Orange County and make the drive here because it WORTH IT!
- Fausto C.